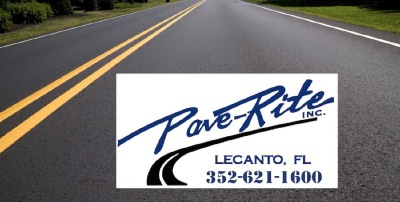 The road to success begins here.


We believe every project begins before the first shovel of material. Coordination between the Owner, Engineer, and Contractor begins the success of each project. By applying the latest construction methods, safe work practices, and maintaining environmental controls, every site is assured a high level performance.

Many times clients assume Pave-Rite, Inc. is only a Paving Company. Not so!

Pave-Rite, Inc. is a full service company specializing in Asphalt Paving, Earthwork, Site Development, Underground Utility, and Road Maintenance. See the side tab "Divisions" for more information.

Pave-Rite Inc. maintains a fleet of Heavy Equipment and Vehicles based at our Lecanto Florida location. The backbone to every construction company lies with it's employees which are skilled for the many phases of work we provide. Subcontractors are held to the same standards as we demand from our own operations.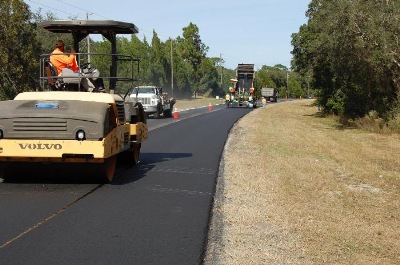 ========================================================
Pave-Rite, Inc. maintains:

Florida Department of Transportation (FDOT) Pre-Qualification Status for categories of work preformed.

Means and Methods follow FDOT Standards for quality workmanship.

Fully insured meeting/exceeding requirements for State, Federal, FAA, and limits set for specific projects.

All employees subject to Background Checks, Drug Testing, and I-9 Verification.

Bonding for major projects as required.

Licensing and Permitting as required by location and/or activity.

Company Safety and Environmental programs maintaining the highest standards.

Emergency response availability for all activities performed.

Contact us at 352-621-1600 or info@paveriteflorida.com
Have a wonderful day!